This information page is for attendees of Kerfluffle 7: Show Your Pride! 
If you have not yet registered for the event, or want general information, please click here first.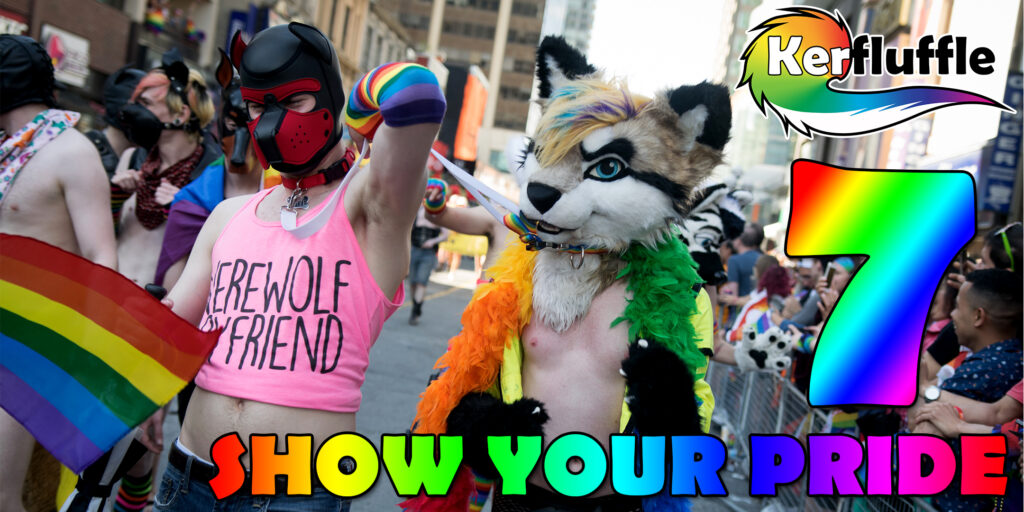 To participate in Kerfluffle 7, all you need to do is meet our group at this exact location and time:
Arrival Time: 3:45 PM
Arrival Location: Bloor St E & Ted Rogers Way

When you get there, do not go to the Check In desk.  Instead, look for the Kerfluffle group!  We should be easy to spot as several of our group will be wearing fursuits and other furry gear.
Our marching permit code is K30, so if you absolutely can't find us, ask where Group K30 is.  But please look around first.  Also, check the telegram group.
How do I get there?
Parking in the area will be difficult, as many roads will be closed.  The best bet is to take transit.  The closest and easiest subway station to the meeting point is Sherbourne, on Line 2.  Exit the station and walk one block west on Bloor until you find our group.
What happens next?
Our group will be staged and organized with the groups in front of, and behind us.  You can get your costume / outfit ready but do not put it on yet, as we may be waiting here for 30 minutes or more.
Where is the float?
Our float will be staged with the other floats nearby.  As we begin to march, the line of floats and the marchers will "zipper" together, so as we arrive at Church St, our float will appear in front of us, with DJ Gnaw spinning some pumpin' beats!
Can I get on the float?
Parade rules state that nobody can get on or off the float once the parade starts!  If you have special needs, please get in touch with Av.
The Parade
After we meet up with our float, we will march down Yonge St!  Make sure to wave at all the people and have a blast!
When we reach the end of our parade route, the event will be over!  You can head over to Church St if you want to participate in additional Pride events, or go home.
Parade Rules, PLEASE READ:
It is important that you follow these basic rules.
Do not stop the parade!  The parade must be kept moving at all times!  Stay with the group!
Do not hand anything out to the crowd!  You can take photos, do high-fives, and interact, but you are NOT allowed to hand ANYTHING out, not even business cards or pieces of paper.
Do not overheat! Pace yourself and drink plenty of water — we will have coolers of bottled water on the float for you to take.
Want more stuff to read?
Here are the official rules documents from the Toronto Pride organization.
Toronto Pride 2018 Parade Terms and Conditions
Toronto Pride 2018 Rules of Parade Entry